Home
We have taken the decision today to close the club due to the Corona virus until further notice.
All classes at Royds Hall and Huddersfield Leisure Centre are suspended until we think it's sensible to start again.
Its disapointing for all concerned but we must all think of our health and that of our loved ones over the coming weeks and months.
Hopefully it wont be for too long, but please stay in touch, either through the facebook page or Whats App group, or directly by email or phone.

yours in Karate-Do
Roland and Adele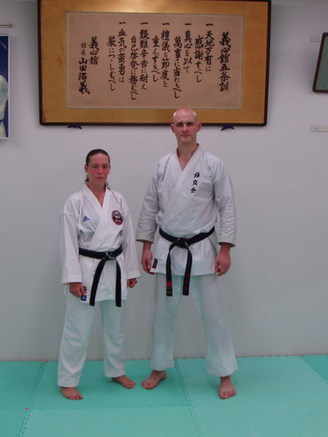 Instructors Roland Clark 4th Dan and Adele Gill 3rd Dan have over 30 years of experience, are CRB checked, insured and hold first aid certificates. We aim to provide safe, enjoyable training in Karate, for anyone from 7 to 70, from beginner to black belt and beyond. People train in karate for many different reasons and we can provide training for you whether you just want to keep fit, learn self defence or compete in tournaments.
Shukokai (pronounced shu-ko-kai and meaning group that trains together) is a style of Karate introduced to the UK in 1968 by Japanese instructors
Tani Sensei (1921-1998) and Kimura Sensei (1941-1995).
Tani Sensei had trained under Chojun Miyagi (Goju ryu) and then Kenwa Mabuni (founder of Shito-ryu). After the war Tani Sensei began teaching in an open air car park in Kobe, Japan and his group (Shukokai) grew. Soon he built a dojo (training hall) at his house. In 1946 Mabuni Sensei gave permission for Tani to form his own style of karate, Tani-ha shito-ryu.
After the death of Sensei Tani in 1998, Sensei Haruyoshi Yamada was elected the new head of the Shito-Ryu Shukokai Karate-do Union.
Site last updated on Monday 16th March 2020